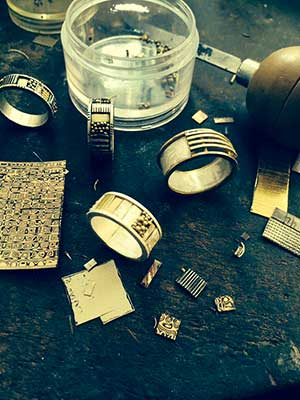 If you drive down Highway One half way between San Francisco and Santa Cruz you can meander through a myriad of charming coastal villages until you stumble upon the tiny town called San Gregorio. The only one-stop-shop in the town is the San Gregorio General Store. It is a general store, post office, bar, meeting place, wine shop "wines fine to rot gut" and oh so much more. This quaint town a mile from the Pacific Ocean nestled among perennial trees, valleys, and acres of crops, has about 150 residents, among them is jewelry designer, Lynda Bahr, her husband - John, son - Will and Zoey their Weimaraner.
Their home was built in 1915 and reflects the California bungalow style which was so prevalent during the Craftsman period. Inside this picture-book house is Lynda's studio. Located on the first floor it looks onto a hundred year old Juniper tree, Black Angus cattle on the hillside, fields of oat/hay, a creek bordering their property and wherever you turn there is lush vegetation.
Lynda's studio, as you might well imagine, reflects her work - a strong structure with a lot happening inside. There is always something going on, something being moved or created, something started then set aside for a while, something rediscovered after a couple months and completed. Tools and equipment, stones, pictures, snapshots, pottery, a sound system and speakers, a clock, papers, a mask from Bali and shelves of supplies and materials are scattered about. Large windows look out to a sea of green. And, yes, Zoey sleeps in the corner under her desk.
All is well. All is peaceful. All is harmony. It is the blending of architecture and nature. And it is the inspiration and source of Lynda's creativity.