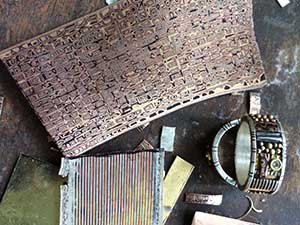 The term Mokume Gane is a near-literal translation of that look. The metal he formed was used in making swords and sword parts. Jim Binnion one of the most revered metalsmiths working in Mokume stated, "The sword was one of the main areas of decorative metalwork in feudal Japan. Some of the finest and most skillfully wrought metalwork in the world was used in the creation and outfitting of many of these swords."
There are countless ways to make Mokume Gane, but they all include using two or more different types of metals to form a multi-colored billet. The billet is then fired in a kiln till the layers form a diffusion bond, which atomically fuses the metal into one single piece. The billet is carved and reduced in a rolling mill till the desired patterning is achieved. This forms the wood grain effect found in the final result.
Today the complex processes involved in creating Mokume Gane are more accessible and the patterns and uses of the metal are only limited by the imagination and creativity of the artist. Lynda Bahr patterns her own Mokume Gane billets in her San Gregorio studio using the ancient techniques of the Japanese swordsmiths. Her Mokume Gane is seen throughout her work. These little treasures are a reminder that Lynda draws inspiration from numerous sources, varied processes and historical references.